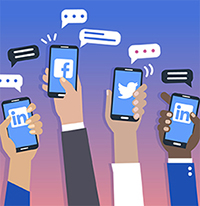 The lawyer sitting next to you at the conference is busy writing a tweet, another is taking a selfie to post on their Facebook, LinkedIn, or SBM Member Directory profile. It seems to you that everyone is busy using social media to market their practice. You could be right.
Although the legal profession has been slow to jump on the social media bandwagon, the 2017 Legal Technology Survey by the American Bar Association showed that more lawyers are maintaining a social media presence. Consider that 81% of lawyers use social media for professional reasons and that 77% reported their firms also maintain a presence.
The survey asked about practice areas and found that:
Employment and labor law lawyers are the most active (93%).
Personal injury and litigation next (84%).
Commercial law is third (82%).
Contract law is fourth (81%).
Career development, networking, and client development were the most popular reasons given for using social media.
What Social Media is Most Popular with Lawyers
The social network most used for professional purposes was LinkedIn; 90% have a LinkedIn profile, Facebook was second with 40%, and Twitter came in third at 26%. 99% of law firms with 100 or more attorneys used social media for career development while solo practitioners reflect a still impressive 81%.
The Advantages of Using Social Media
Social media builds relationships.
You will reach consumers that never come to your speaking events, read your newsletter, or view your blog. Your tweets can find new readers who will comment or retweet your message to their followers.
You gain name and brand recognition.
People come to know you by your choice of words, style of writing, and the topics you pick. Use an easy to read style, offer real information, and show them you are approachable and they will be loyal and frequent readers.
Use visitor analytics and reader comments to learn more about your audience. Knowing their interests will help you find topics for them.
You can post a link to social media on your website and your SBM profile, making it easy for readers to find you.
The Disadvantages of Using Social Media
Time is money and time spent on social media is not billable, which means if you start a social media platform be sure you understand that time must be set aside to continue posting.
Content must be written, edited, and revised.
Social media creates demands on your talent, so posts must be relevant to your practice and interesting to a wide variety of readers. Fortunately, you have access to many topics with the weekly e-Journal and SBM NewsLinks posted daily.
You lose control of your content, since everything is available for comment.
Statistics show that 81% of the surveyed lawyers thought that the advantages of social media outweighed its disadvantages. If you decide to add a social media account, you'll be in good company.

After years practicing law, Roberta Gubbins served as editor of the Ingham County Legal News. Since leaving the paper, she provides writing services to lawyers ghostwriting content for websites, blogs, and articles. She is editor of The Mentor, the SBM Master Lawyers Section newsletter.