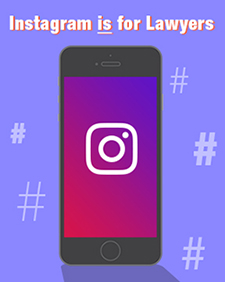 "What is Instagram?" Lance asked Jennifer, an associate at L & L Law Firm. "It's a social networking app," she answered. "It's made for sharing photos and videos from your smartphone."
"Some of the lawyers were taking pictures around the courthouse this morning," said Lance. "They said they were going to post them on Instagram. Should we be doing that?"
Instagram is a visual platform, based on pictures and videos. Like other social networks, you can interact with users by following them, being followed by them, liking, tagging, commenting, and private messaging. According to Instagram's website, there are over 800M users and 500M daily active users. Eight out of ten users follow at least one business.
Instagram is good for building your brand by creating a visual story of your life in and out of the law. While the law may not be photogenic, the people working with the law are. Take pictures of the people behind the scenes at your office. Share a picture of a new associate coming in the door ready to work, or upload an image of your office manager blowing out the candles on their birthday cake.
Look for pictures of the firm's community involvement. Take photos of lawyers and staff running in a marathon or distributing bicycle helmets. Some images might be connected to your legal expertise, such as a short clip of you speaking at a seminar. Others could connect to your niche practice, such as landscapes for environmental law, or office buildings for employment law. For a few ideas, spend some time researching to see what other lawyers are posting.
The law is a service business that's all about building relationships. Using Instagram can help build a complete picture of who you are as a person and as a lawyer, making you more accessible to your clients.
How to Get Noticed on Instagram
Instagram users categorize their images using #hashtags. These hashtags help users find your posts. To help their search, the caption of your picture and the hashtags should be related. You can check out a hashtag before posting it by using Instagram's search feature to see what other images and posts appear. You may find more hashtags that are applicable to your post.
Remember, Instagram is a social network, so keep ethics rules in mind, follow people, comment on their posts, and reply to the comments you have received.
Instagram is another marketing tool to have in your social media tool box. If you have clients who are in businesses such as food, fashion, design, or hospitality, they may be active on Instagram. Simply commenting or liking their post will help build a relationship with that client. Consider posting your own images and take some time to enjoy the images posted by others.

After years practicing law, Roberta Gubbins served as editor of the Ingham County Legal News. Since leaving the paper, she provides writing services to lawyers ghostwriting content for websites, blogs, and articles. She is editor of The Mentor, the SBM Master Lawyers Section newsletter.